What you need, When you need it, Without the fuss.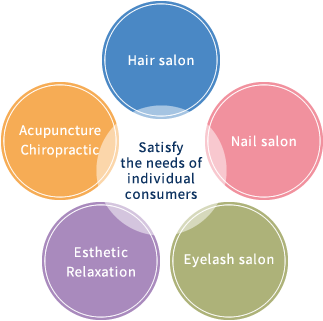 "I want it to be easy to order the things I want, anytime I need them, and I want them delivered quickly."
With the point of view of a salon owner in mind, we work to fulfill this simple request.
This is what we value most as a company that exists to support the salon business. One of the things that embodies this idea is our online shop, which continues to improve and evolve.
Rather than doing everything online, we offer salons a more personalized experience by establishing showrooms in major cities nationwide, along with a comprehensive follow-up support system.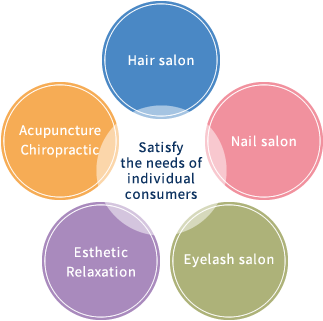 For Hair Salons
We offer a full range of products for salons from large salon equipment that is essential for any new business starting up, including styling chairs and shampoo units, to hair cosmetic products used on a regular basis in salons, such as hair coloring kits and styling products, and consumables. Our lineup of hair cosmetic products from well-known manufacturers and brands has greatly expanded especially in recent years, and our business has become very popular with salons nationwide.


Nail Products
Beginning with the popular PB gel brand "Raygel", we offer a full lineup of national brands of gel nail products popular among manicurists. We also offer nail tables & chairs and nail equipment, which allow us to provide nail salons and beauty salons that are considering introducing new nail services with value for money by triggering economies of scale that are unique among general beauty trading companies.


Esthetic & Relaxation Products
We are proud to offer a full range of product lines to support the daily work of salons, from treatment beds and professional esthetic equipment, to commercial cosmetics created exclusively for esthetic salon use. We've strengthened the private brands for various products, including shorts, towels, and other disposable items, as well as massage oils that are used generously and in large quantities during the course of business; in doing so, we've achieved massive economies of scale that have led to price reductions for these products.


Eyelash Products
In order to respond properly to the needs of the eyelash market, which has been rapidly expanding in recent years, we have also opened our EYELASH GARAGE Online Shop specializing in eyelash products. Here, we offer all the necessary materials for eyelash treatments, from equipment and instruments, such as treatment chairs to eyelash extension products.